Hello hello hello, my name is Gregor Czaykowski and I make a comic called Loading Artist.
Loading Artist is a webcomic about many things, sometimes revolving around an artist who wants to become rich and famous. One day I realised if I wanted to have a webcomic I should probably start one. And now here we are.
What do you use to make comics?
I used to use Photoshop, but since around 2015 I've been using Clip Studio Paint EX and I love it! But if you're wondering about my graphics tablet, I use a Wacom Cintiq 22HD.
I've made a tutorial video about some of my processes if you're interested.
What's up with the spiders
There's a hidden spider in every comic. Some are (a lot) harder to find than others. Good luck.
How did it start?
The spider is canonically the one from the Inspidered comic but it didn't start becoming a thing until some time during 2015 when I drew a spider as a Halloween decoration and the stream chat wanted it to make another appearance in the next comic.. and since then it has found its way into every comic.
I've also retroactively added spiders to all previous comics.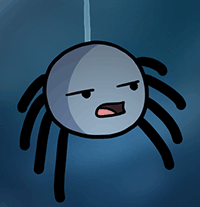 Inspidered
Bonus Panels?!
What are bonus panels?
Bonus panels are extra punchlines I come up with and draw after finishing the main comic! Depending on the joke, it can be multiple panels (sometimes it's basically a whole new comic!). This is exclusive content I make on top of the regular free comics to give back to my supporters.
Yeah but what are they like?
Check out this comic's bonus panels as a free example (click the banner beneath the comic):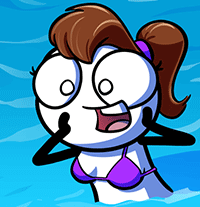 Fishful Thinking
Hey aren't bonus panels usually free? What a sell out
Bonus panels have always been a way of monetizing a free webcomic, except that they used to be a way to get people to come back to the site (after seeing it posted somewhere else) and rack up an ad view.. but instead of subjecting you to obnoxious ads and slowing down the site, I'm just focusing on making extra content.
Plus we're all using ad blockers now anyway.
How do I see the bonus panels?
There are 2 ways of accessing the bonus panels:
Bonus Panels via Patreon

Patrons can see the bonus panels by clicking the "BONUS PANELS FOR PATRONS" banner beneath the comics, which will take you to the relevant post on Patreon. You can also get them emailed to you and/or view all the posts in the Patreon app and site.
Bonus Panels via Discord

Bonus panels are also viewable on Discord! Just click the "AND TWITCH SUBS" banner that appears below comics and it will take you to the exact right post in the exclusive #bonus_panels Discord channel. This is available for all Twitch subs as well as patrons!
as a Twitch subscriber
All you gotta do is sync your Twitch account with your Discord account by going into User Settings > Connections > Twitch in Discord. More info here.
Subscribe on Twitch! or get this for free if you have an Amazon Prime or Prime video membership
as a Patron
Patrons also have access to the exclusive Discord channels. Just connect your Discord account in the Apps section of your Profile Settings. More info here.
Patron Packs?!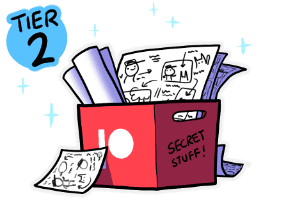 What are patron packs?
Patron packs are basically the behind-the-scenes of the comic. It includes scans from my sketchbook, the evolution of the comic idea and reasons for changes, (sometimes alternative versions)!
They also recently include timelapse videos of the sketching process, as well as the full creation process of the bonus panels!

Patron Packs via Patreon
Tier 2 patrons get access by clicking the Patron Pack icon beneath the comics and viewing it on the Patreon site
Patron Packs via Discord

Tier 2 Twitch subscribers can see all the patron packs in the exclusive #patron_packs Discord channel

Tier 2 patrons can also access this Discord channel
HD VERSIONS?!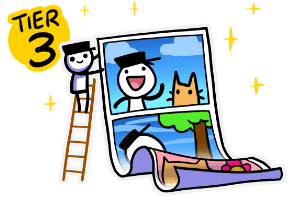 What are HD versions?
Get 2200px wide versions of the comics and art both with and without the speech bubbles (perfect for wallpapers)!
via Patreon
Tier 3 patrons get access by clicking the Patron Pack icon beneath the comics and viewing it on the Patreon site
via Discord

Tier 3 Twitch subscribers can see all the patron packs in the exclusive #hd_speechless Discord channel

Tier 3 patrons can also access this Discord channel