My New Comic Series
I HAVE A SPECIAL ANNOUNCEMENT!
It's been one year since the duck made his first appearance with the burnout storyline, and now I'm proud to finally launch the beginning of Plucked Up as an ongoing slice-of-life comic series!
Read the first set of pages here: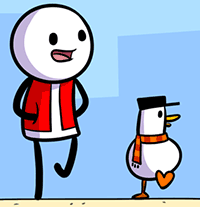 Plucked Up: Nice Day
Plucked Up is exclusive to all my supporters on

Patreon,

Twitch, and
Ko-fi!, and new comics will be posted fortnightly.
I hope you like it!
<3 Gregor
Oh and also there's a spider on every page. Good luck!