Loading Artist Rewind 2020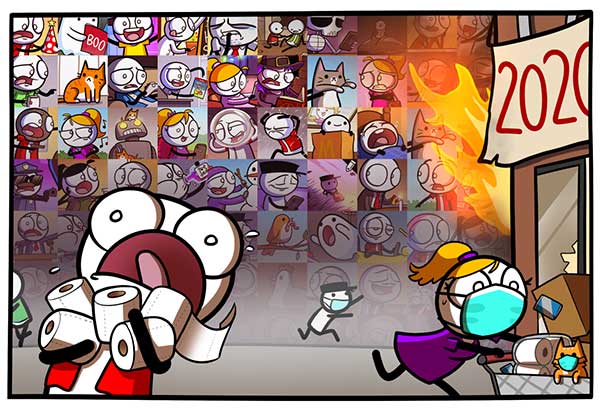 .. aaaand we made it!
Time for another rewind where we look back on the year, pick our favourite comics, and visit the newest Hall of Memes! But FIRST I want to show off the latest incredible video montage made by none other than the legendary MarcMansfield:
I can't even begin to imagine how long that must've taken to edit it all together. Thank you so much, Marc!


















Next up it's time to look back over this year's archive and pick my four personal favourite comics!
Here they are in no particular order:
I used to pick five comics in the previous years, but then I found out Twitter only allows up to four images per tweet.. sooo if I were to pick a fifth, I think I'd pick Cool Move.

Alright now it's time to visit the Hall of Memes! This is a collection of my favourite memes and things (as well as some fan art) that I've saved from our Twitch chat and Discord server over the year:

And if that wasn't enough inside jokes to potentially confuse and alienate you, there's also Hall of Memes 2019 (and 2018 (and 2017))!

Finally with this rewind I just want to say.. while I realize 2020 is probably most people's worst year (yet

), looking back over all the comics that were made and all the memories in the Hall of Memes it was actually a really nice year for me in spite of everything, so thank you very much for being a part of it and for making it so.
I'll be taking some time off before starting on new comics again, but in the meantime you can stay in touch by following me on: Twitch, Twitter, Instagram, Facebook, Tumblr, or /r/loadingartist! Or join the chat in our Discord server! Or become a patron and catch up on all the bonus panels/content you might've missed so far!
Thanks again, and see you in 2021!

<3 Gregor