Patreon Annual Memberships!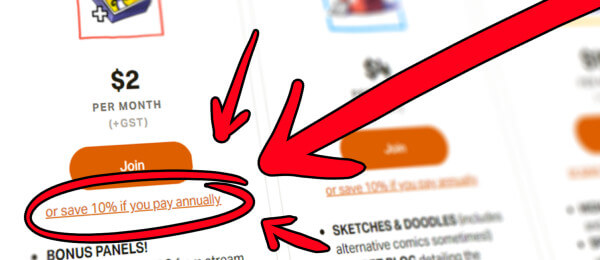 Become a Loading Artist patron for a whole year and save 10%!

If you're already a monthly patron (thank you <3), and are thinking of switching to an annual membership: it's easy! Just hit Edit on your Active Membership page, and you'll see the option to toggle between a monthly and annual membership.
If you do sign up for a year but later on decide you want some of those higher tier rewards: you can upgrade any time! Just follow the same steps as above to edit your membership and select the higher tier. You'll only pay the difference!
Here's a page with more better helpful words 

This is all possible now that the Loading Artist Patreon page is 'pay up front'! Meaning new patrons will be charged once on sign up, and then again at the start of each month going forward (assuming they're a monthly patron). Had some people in the past sign up to get all the rewards only to bounce before it came time to pay

Thank you for reading and for all your support!
<3 Gregor