To Garfield
I can't believe I missed GF's birthday! Garfield turned 37 38 on June 19th (I can't math).
GarField not GirlFriend, get it?! Ha ha ha ha ha I'm so alone.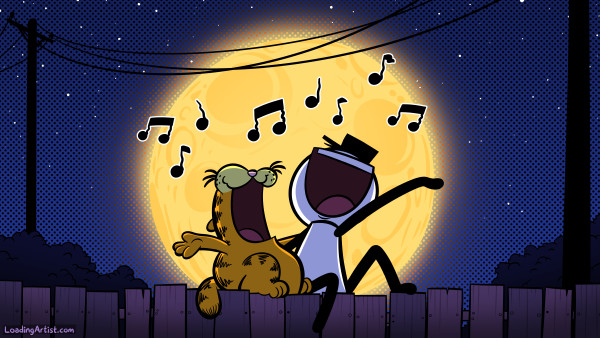 There were only 3 comics in my life when I was growing up: The Far Side, Calvin & Hobbes, and most of all: Garfield. I had way more Garfield things in my life than anything else (probably because Garfield is such a merchandise slut).
I loved Garfield, and I would read the comics every day. So much so that it made me want to become a cartoonist. Look, I even attempted a fan-made Garfield comic:
Attempted.
FUN FACT: Did you know there has been a Garfield comic every day since 1978? And Jim Davis is still making them, and has a whole YEAR'S worth of comics stockpiled? For comparison's sake, my comic buffer right now is 0.
Hey also I'll be including the crazy high-res version of this wallpaper (& behind the scenes sketches + animated progression GIF) as part of this month's Patreon rewards! So if you like the sound of that, or just want to support Loading Artist, consider becoming a patron!
Also also, I'll be streaming myself drawing the next comic on Twitch in about 8 hours! Goodnight!